Cayuga County is a county in the U.S. state of New York. As of the 2020 census, the population was 76,248. Its county seat and largest city is Auburn. The county was named for the Cayuga people, one of the tribes of Indians in the Iroquois Confederation.
Cayuga County was formed in 1799 by the splitting of Onondaga County. This county was, however, much larger than the present Cayuga County. It then included the present Seneca and Tompkins Counties. In 1804, Seneca County was formed by the splitting of Cayuga County. Then in 1817, in turn, a portion of Seneca County was combined with a piece of the remainder of Cayuga County to form Tompkins County. In the late 19th and early 20th century, this region attracted European immigrants who developed farms or took over existing ones, particularly from Italy and Poland.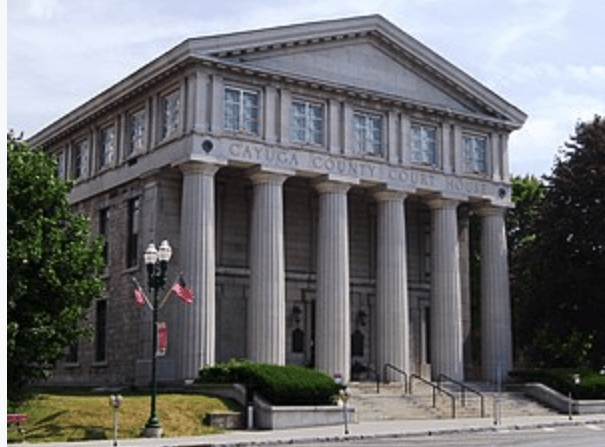 According to the U.S. Census Bureau, the county has a total area of 864 square miles (2,240 km2), of which 692 square miles (1,790 km2) is land and 172 square miles (450 km2) (20%) is water.
Cayuga County is located in the west central part of the state, in the Finger Lakes region. Owasco Lake is in the center of the county, and Cayuga Lake forms part of the western boundary. Lake Ontario is on the northern border, and Skaneateles Lake and Cross Lake form part of the eastern border. Cayuga County has more waterfront land than any other county in the state not adjacent to the Atlantic Ocean.
Our Medicare Services in Cayuga County, NY
Things to do in Cayuga County
In the heart of the Finger Lakes is the Cayuga Lake Wine Trail offering a unique blend of award-winning wines, scenic waterfalls, and local eateries. Welcoming visitors year-round. America's first wine trail. Taste a bit of history.
Located on a ridge between Seneca and Cayuga Lakes, the Finger Lakes National Forest covers 16,036 acres in the Finger Lakes. There are a variety of outdoor activities available in the National Forest. 
The Finger Lakes Region of New York is a four season destination and activities abound when fresh snowfall hits the ground. It's a winter playground in the Finger Lakes when temperatures drop and a whole new plethora of offerings for things to do comes on the horizon including a number of unique winter experiences.
Start with 11 pristine Finger Lakes and the nearly 134,000 acres of water. Add Lake Ontario, Oneida Lake and many smaller lakes and ponds along with a host of rivers and streams and you have countless opportunities to pursue your favorite fish. Finger Lakes fishing is truly world-class – there is no place in the entire world that produces consistent trophy-sized trout, salmon, bass, walleye, pike, carp and catfish.
Consider the one-quarter of a million acres of public hunting lands in 118 locations throughout a largely rural region containing many heavily forested areas, fields, meadows, and wetlands. Ranging in size from 16,000 acres in the Finger Lakes National Forest to 32 acres in the Cross Lake Wildlife Management Area, these lands provide hunters with many options. Hunters can pursue trophy whitetail deer, many of world-class rank, in virtually any locale in the region in October, November and December. You many even have an opportunity to bag a black bear in Steuben, Chemung or Schuyler counties.